Disinfectant Application
Kill Germs for a Safe Environment
There's a difference between cleaning and disinfecting. Cleaning removes dirt and germs from a surface, and disinfecting kills germs—like bacteria and viruses—using chemicals. For Minneapolis-area commercial or residential disinfectant services Green Clean uses disinfectants that are certified by the Environmental Protection Agency.
When Bleach and Wipes Won't Cut It
Think about places that acquire consistent human traffic throughout a given day (kitchen counters, doors, sinks, etc.). In addition, think about the items that we are bringing in and out of our spaces (cellphones, purses, lunch bags, keys, name badges, eyewear). It is possible to use eco-friendly commercial or residential disinfectant that is safe for people and pets—and this is where Green Clean can help. Some of the solutions we might recommend include using an:
Electrostatic sprayer for disinfectant application, which applies a small electrical charge to aerosols, making them easier to stick to surfaces
Ultra-low volume (ULV) fogging machine, which transforms liquid into airborne droplets—in other words, really small droplets to reach the tiniest spaces
Following Disinfecting Guidelines is Essential
With disinfecting products, it's crucial to follow the instructions given for proper use—most importantly, how long the product should sit on an impacted surface to effectively kill germs. Without paying close attention, it's easy to inadvertently wipe product away before it has had adequate time to do its job. This is one perk of using an electrostatic sprayer—there's no need to use harmful chemicals or wipe down surfaces after disinfectant application.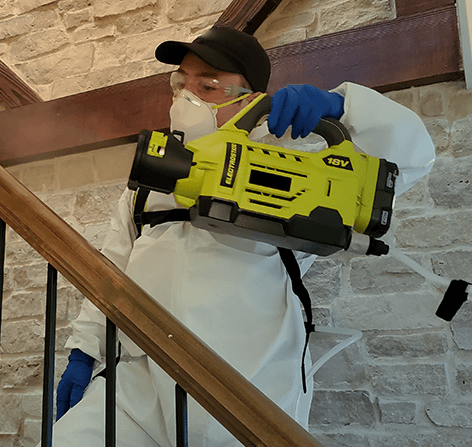 The Benefits of Professional Disinfectant Services
Whether commercial or residential disinfectant services are required, every situation is unique. That's why the Minneapolis-area Green Clean team starts by gathering information from you to inform a plan that includes the appropriate and most effective disinfecting techniques and specialized cleaning agents for your needs and your space. No matter what the plan is, we arrive wearing the proper gear and pay extra attention to high-touch areas throughout your home or business.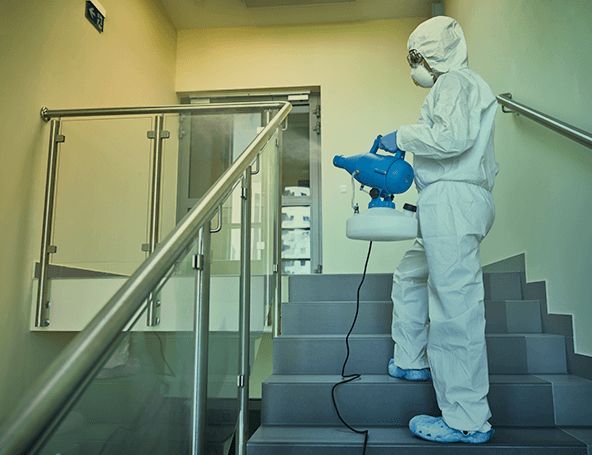 Get an Estimate Today
Your disinfectant service pre-inspection starts with a visit to your Minneapolis-area space so that we can build an understanding of the damaged area, the desired repairs, and discuss your concerns.
Get Help