Fire and Smoke Damage Repair in the Minneapolis Area
Expert Restoration Help Recovering from Fire Damage
A fire and the smoke it produces can wreak havoc in a home or business. Recovering from a fire often requires smoke odor removal and fire damage restoration. Once it is safe to return to your space, it's important to quickly remove the harmful chemicals and residues left behind.
As a  member of the Institute of Inspection, Cleaning and Restoration Certification (IICRC) and Restoration Industry Association (RIA), Green Clean is an all-in-one source for technicians trained to help you with fire-damage restoration and repair services.
Minnesota's Fire-Damage Restoration Experts
Fire and smoke damage repair and restoration can include several different techniques. Minneapolis-based Green Clean restores a healthy environment by customizing a solution that can include:
Identifying areas affected by smoke, like attics and wall interiors
Soot and smoke-residue cleanup
Controlled removal of building materials
Complete structural drying
Coordination of content, appliances,
electronics and garment cleaning and storage
Pack-up and board-up services
The Benefits of Professional Fire-Damage Repair
Following damage from a fire or smoke, it's important to start the process of cleaning and protecting your salvageable possessions as soon as possible. Smoke residues can get into almost everything, cause odors, and can cause permanent staining if not addressed quickly. Green Clean's trained fire and smoke damage restoration experts can determine the best way to address:
Wet smoke residues from low-heat, smoldering fires—often sticky, smear easily and smell pungent.
Dry smoke residues from fast-burning, high-temperature fires—often powder-like particles
Protein residues, which smell strong, are invisible, and often discolor paint and varnish
Additional residues such as fire-extinguishing chemicals, fingerprint powder, and more that needs to be cleaned up for a healthy environment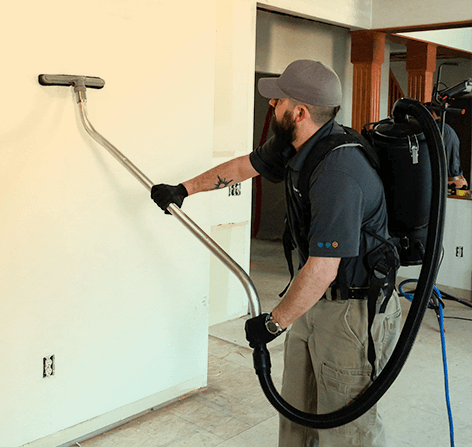 24/7 Disaster Response Line
Emergencies that damage your Minneapolis-area home or business can happen at any time. That's why Green Clean offers a 24/7 disaster response line to get you the help you need.
Call 612.789.9600 now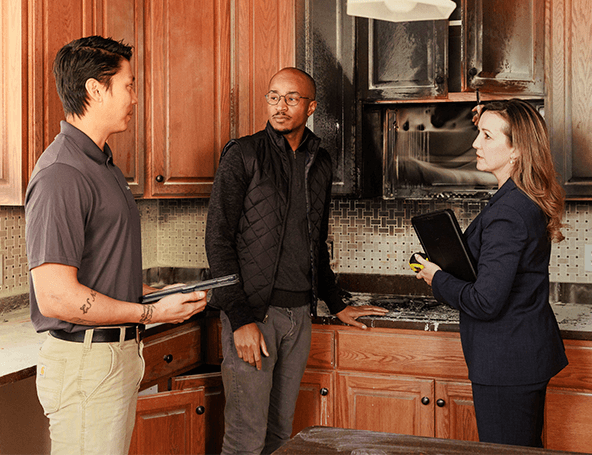 Request a Pre-Inspection Today
Your smoke or fire-damage restoration pre-inspection starts with a visit to your space so that we can build an understanding of the damaged area, the desired repairs, and discuss your concerns.
Get Help
* Depending on your circumstances and needs, there may be a fee associated with a pre-inspection. When we respond to your request, we can clarify any expected fees for pre-inspection.